We are proud to showcase the work of our fire and emergency services in the ninth Excellence in Fire & Emergency Awards, which offers chief officers and their teams the opportunity to unite with suppliers, organisations and industry supporters to recognise and applaud such achievements. This year's nominees were of the highest possible standard with a large number of entrants on the long list meriting inclusion as a finalist.
FIRE is delighted to announce a new category – Neurodiversity Champion of the Year – which will be given to an individual who has excelled in helping to provide an inclusive and inspiring workplace and has demonstrated how they have made a positive difference to the organisation in developing initiatives and providing support to neurodiverse personnel.
This year's 125 plus nominees are the strongest yet and it is testament to the work of fire and emergency services that the standard continues to rise in spite of the huge impact of the cost-of-living crisis.
FIRE Editor & Publisher Andrew Ledgerton-Lynch said: "We are delighted to be returning with our ninth annual awards, which have become a popular, feelgood must-attend event in the fire and emergency services calendar. This year, more than ever, we need to celebrate the exceptional contribution of personnel under the most trying circumstances. It is humbling to introduce these awards each year and I'm delighted I get to spend time with our wonderful nominees. The standard of entries this year has been exceptional yet again."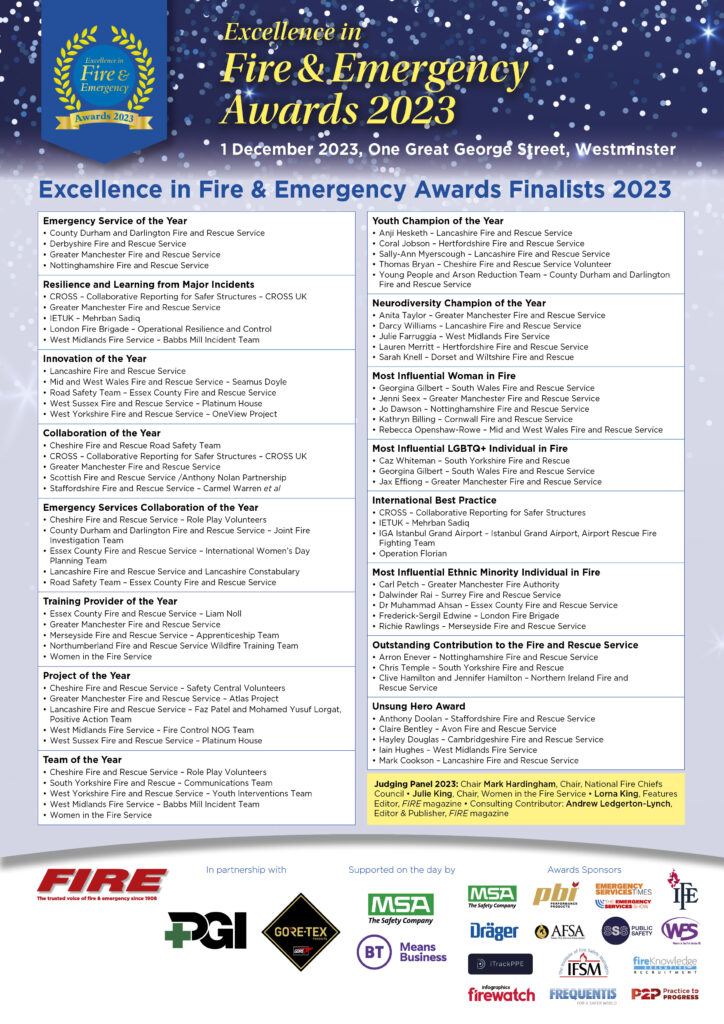 Fire Knowledge Director and awards presenter Dave Etheridge said: "It is a delight to celebrate and reward the fabulous personnel that contribute so much time and effort to providing the best possible service to the public. I am sure it will once again be an outstanding occasion as we reflect on the great work across the UK and overseas, and shine a spotlight on the impressive response and incredibly hard work undertaken by fire and emergency personnel."
Fire Knowledge Director Christine Hicks added: "We are delighted to be holding our ninth annual Fire & Emergency Awards, an event which has taken its place as a nationally recognised celebration of achievements within the fire and emergency services. Every year we receive incredible nominations that recognise the hard work and commitment of these services and individuals, and applauding these at the awards ceremony in December is a very special occasion."
The 2023 Excellence in Fire & Emergency Awards will take place on 1st December at the prestigious One Great George Street. Emergency service chiefs, their teams and services, suppliers and industry supporters will get together to recognise and celebrate the achievements of the fire and emergency services with a drinks reception and three course lunch followed by the awards ceremony.
Congratulations to all the finalists and we wish you the best of luck.