FIRE Editor receives OBE from Princess Royal
FIRE Editor Andrew Ledgerton-Lynch has been honoured as an Officer of the Order of the British Empire (OBE) in an investiture at Buckingham Palace by the Princess Royal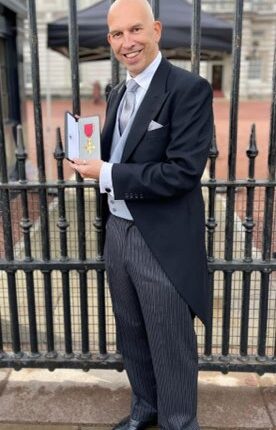 The long-time Editor of FIRE magazine, Andrew Ledgerton-Lynch, has been recognised in an investiture at Buckingham Palace for services to The Fire Fighters Charity and to fire safety following the announcement earlier this year in the King's Birthday Honours.
Fire Knowledge Director Dave Etheridge OBE said: "Both personally and on behalf of the other Fire Knowledge directors, I was delighted to receive the news that Andrew had been awarded an OBE. The award truly reflects the long and distinguished career as the Editor of FIRE magazine but also his involvement across the fire sector.
"Wider activity has included a lifelong supporter of The Fire Fighters Charity and, as Chair of the Trustees, he was the first person to achieve such a position who had not come through the traditional uniformed Fire and Rescue Service route. The positive impact Andrew has made to so many organisations is rightly reflected through being awarded the OBE."
Sir Matthew Rycroft KCMG CBE, Permanent Secretary, Home Office, stated: 'Your award is richly deserved for your extensive voluntary contribution to The Fire Fighters Charity, establishing a sustainable organisation for the future for firefighters and their families and promoting the cause of firefighter health and wellbeing.
'Through your role as editor of FIRE magazine, you have shared knowledge and improved professional practice, helping to keep communities safe'.
Andrew said he was greatly honoured to receive the award from the Princess Royal. "It has been the privilege of a lifetime to edit FIRE magazine and to have chaired the Board of Trustees of The Fire Fighters Charity and I find this recognition truly humbling given the calibre of personnel I've had the pleasure to work with and report on over the years. It has been a great honour to hold these responsibilities and to have worked collaboratively with such exceptional and generous personnel. It was especially poignant to spend the day celebrating the investiture with my family."
Andrew has been the Editor of FIRE magazine for the last 23 years and chaired The Fire Fighters Charity from 2016-2020. Andrew has served as Communications Director of the Fire Sector Federation and officer of the All-Party Parliamentary Fire Safety and Rescue Group. He has also been Editor of International Fire Professional – the journal of the Institution of Fire Engineers – since 2012; and founder and host of the Excellence in Fire & Emergency Awards since 2014. He is currently a trustee of FIREAID, the Fire Service Research and Training Trust, and media and communications tutor on the International Brigade Command Course.
In 2020 Andrew received the Coronavirus Journalism Excellence – Best Comment accolade from the Press Gazette and in 2021 he received international recognition with the Tabbies Editor's Column Silver Award.
Following the investiture Andrew and family held a lunch at the Houses of Parliament and were welcomed by the Father of the House, Sir Peter Bottomley MP, who is also Co Vice Chairman of the All-Party Parliamentary Fire Safety and Rescue Group.