Take care if you're having Guy Fawkes celebrations at home this year – and why not visit an organised event instead?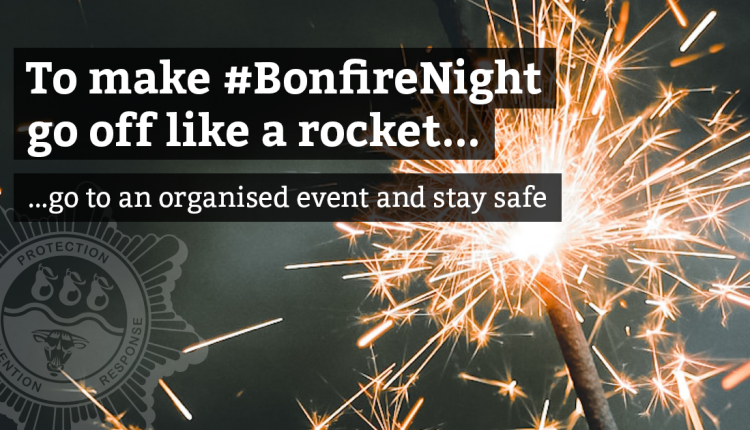 Hereford & Worcester Fire and Rescue Service (HWFRS) is urging people to think twice about having firework celebrations at home this year, but to take extra caution if they do.
Although again this year there are numerous organised firework displays, no doubt many people will again want to celebrate at home.
Whichever way we celebrate, it is vital to be take care around fireworks, especially if letting off fireworks in gardens.
Don't forget that fireworks can be dangerous if misused and by following simple safety steps, you will ensure that celebrations are fun.
Nearly 240 HWFRS Guy Fawkes Night callouts in our area in last ten years
In the last ten years, between 01 Jan 2012 and 31 Dec 2021, HWFRS attended a total of 238 incidents on 5 November (Guy Fawkes Night). These included 75 fires and some 44 non-fire incidents needing help.
Two of the incidents were attributed to fireworks, with the busiest stations for callouts being Worcester, Hereford, Wyre Forest, Bromsgrove and Redditch.
Although fortunately 119 call-outs were 'false alarms' – exactly a half – these still involved fire crews deploying when they might have been needed more urgently somewhere else.
Emma Roberts, Head of Prevention at HWFRS, said:
"We encourage people to go to an organised event with their families and friends, as this is by far the safest option.
A list of community events is included on our website at Organised bonfires and firework displays https://www.hwfire.org.uk/safety-and-advice/firework-displays/.
"But for those people holding their own bonfire parties and get-togethers, we want to remind them of some simple firework and bonfire safety tips to help avoid injury or any damage to their property.
"We want everyone to enjoy their firework celebrations safely and without causing inconvenience to others, so please remember these top tips for an enjoyable and accident-free evening."
Understanding that fireworks can be dangerous if misused and following simple safety steps, will ensure that celebrations are fun and go with the right kind of 'bang'.
Here are some tips if you're having celebrations at home:
Firework safety tips
DO
plan your firework display to make it safe and enjoyable * only buy fireworks marked with British Standard Kitemark BS 7114, and from a reputable supplier * keep fireworks in a closed metal box and take them out one at a time * always follow the instructions on the box carefully – read them in daylight or by torchlight, never by a naked flame * light the firework at arm's length with a taper and stand well back * keep naked flames, including cigarettes, away from fireworks * always supervise children around fireworks and never give sparklers to children under 5 * carefully put fireworks in a bucket of water after use – they'll still be hot * respect your neighbours – don't let off fireworks late at night * keep your pets indoors all evening with the curtains closed
DON'T
don't drink alcohol if you're setting off fireworks – they don't mix * light the firework at arm's length with a taper and stand well back * never go back to fireworks once they are lit – they might still go off or even explode * never throw fireworks and don't put them in your pocket
Bonfire safety tips
consider whether your garden is actually big enough for a safe bonfire – if in doubt, don't!

never use flammable liquids to help start a bonfire

build your bonfire well clear of buildings, garden sheds, fences, hedges and overhanging branches

keep it to a manageable size and evenly built so it collapses inwards as it burns

always check the bonfire's construction is still sound before lighting it, that there are no children or animals inside, and that hazardous items such as aerosols and fireworks have not been thrown on to it

bonfires should be lit after the firework display – unless sufficiently far away to ensure stray bonfire sparks cannot fall into among the fireworks

never burn dangerous items such as aerosol cans, paint tins, foam furniture or batteries – they could explode

don't leave bonfires unattended – ensure an adult is in charge until they have burnt out

always keep a bucket of water or a hosepipe nearby in case of emergency

make sure that the fire is out and surroundings are made safe before leaving

damp them down with water at the end of the evening – or if you have to leave them even for a short while
Why not visit HWFRS and other websites for wealth of bonfire night safety guidance to help keep you, your family and your pets safe?
For more information on safe bonfires and firework celebrations, visit the HWFRS, GOV.UK and OPSS (Office for Product Safety and Standards) websites for a wealth of bonfire night safety guidance to help keep you, your family and your pets safe.
Check out these websites for helpful tips:
http://www.hwfire.org.uk/safety-and-advice/firework-safety/
gov.uk/guidance/my-safety-fireworkshttps://gbr01.safelinks.protection.outlook.com/?url=https%3A%2F%2Fwww.gov.uk%2Fguidance%2Fmy-safety-fireworks&data=05|01|NSargeant%40hwfire.org.uk|474868cd1da6452ee8e208dabbf7f1a2|09c53cc0fd994f8cbc79935df9539402|0|0|638028970826033343|Unknown|TWFpbGZsb3d8eyJWIjoiMC4wLjAwMDAiLCJQIjoiV2luMzIiLCJBTiI6Ik1haWwiLCJXVCI6Mn0%3D|3000|||&sdata=o9N9RHwlaCi2hnCd7f7otMTk%2BboHl4pgGMryJJBwMdo%3D&reserved=0
Stay Safe!