HWFRS team achieve Best Overall team and awards in all other categories at Fire Service National BA Challenge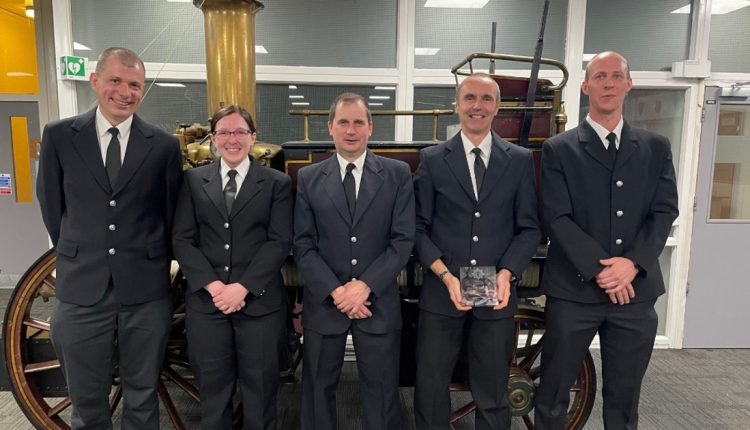 Two Hereford & Worcester Fire and Rescue Service teams have proved their prowess at the recent Fire Service National BA (Breathing Apparatus) Challenge (NBAC), with one team coming Best Overall, and between both teams, taking awards in all other categories.
The competition took place at the Fire Service College in Moreton-in-Marsh. The highly contested championships fielded 22 teams from around the country, testing firefighters on their ability to resolve complex operational scenarios with multiple persons involved, within a 30-minute time frame.
The two HWFRS teams qualified for the national competition at the regional championships at Telford Training Centre in the summer. The national competition was extremely tough and resulted in a very close finish, with teams being split by just a handful of points across the top positions.
The HWFRS teams performed excellently, with contestants made up of personnel from right across the service. The Bromsgrove team took the Best Overall Team trophy, the first time the service has picked up this award in the Challenge's history!
They also took Best Incident Commander (WC Lee Rudge), Runner up ECO (Jordan Ahmed), Runner up BA Team (Firefighters James Smith and Matthew Round.)
Meanwhile, the Leominster team were placed in the Gold Category and Fire Ground Operative John Briggs was named Runner Up. As well as taking part, the Service assisted with the running of the Challenge by providing a NBAC committee member and assessors – part of a team of more than 30 from across the country who judge and support every aspect of teams' performance.
HWFRS's competing Bromsgrove team comprised:
WC Lee Rudge, the Officer in Charge and team leader, Ff James Smith and Ff Matthew Round on the BA Team, Entry Control Officer Ff Jordan Ahmed, Ff Nigel Crawford, the driver.
Representing the Leominster team were:
Officer in Charge, WC Mark Phillips, Driver John Briggs, BA Team Leaders Amy Morris and Owen Mabbort, and Entry Control Officer Ryan Hale.
The HWFRS Assessors were Group Commander Phill Sanders, and Watch Commanders Julian Short, Steph Cooling, Mark Andrews and Pete Hope.
Area Commander Jon Butlin said:
"Events such as the BA Challenge are an excellent way of not only developing knowledge and skills but also showcasing the professionalism of our personnel to the wider fire service community. "I'd like to congratulate both teams and the assessors on their performances and thank them for representing our Service in such a professional manner at this prestigious event."