Hereford & Worcester Fire and Rescue Service staff awarded leadership diplomas in Worcester Cathedral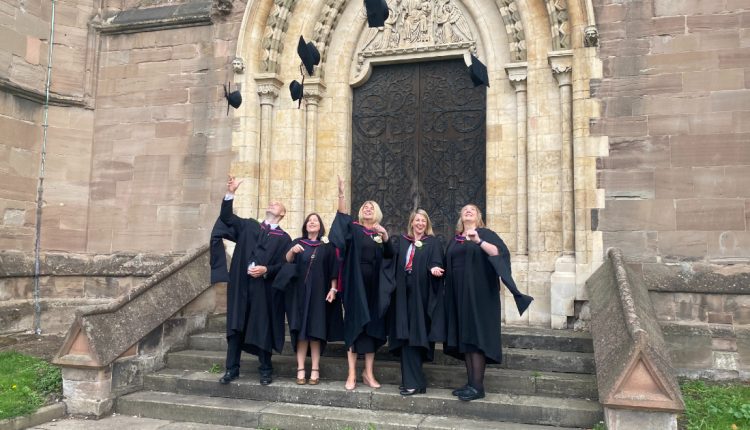 Six of Hereford & Worcester Fire and Rescue Service's most senior officers have been awarded postgraduate diplomas from the Chartered Management Institute (CMI) in Strategic Management and Leadership Practice from Heart of Worcestershire College.
Assistant Director Anna Davidson, Area Commander Samantha Pink, Head of Prevention Emma Roberts, Area Commander Maxine Laugher, Group Commander Thom Morgan and Group Commander Gareth Clarke attended a graduation ceremony at Worcester Cathedral, accompanied by other graduates, college staff and guests.
The Dean of Worcester, Peter Atkinson welcomed all the guests and spoke about the life of the cathedral, its history and its place in mourning the passing of Queen Elizabeth II.
A poignant moment in the ceremony was hearing the Cathedral's Bourdon bell toll 96 times, one for each year of Her late Majesty's life.
Principal Stuart Laverick congratulated all the graduates on their achievements and encouraged them to continue making a difference in whatever they continued to do in life, work and the wider community.
Echoing the Principal's words, Assistant Chief Fire Officer Ade Elliott congratulated his colleagues and said: "This was an excellent achievement by all, and no mean feat considering their very busy workloads in the Service's Prevention, Protection and Response departments during their year of part-time study at HoW College.
"We attach the greatest of importance to supporting our staff in enhancing their qualifications and skills to the overall benefit of the Service."