Chief Fire Officer retires
Chief Fire Officer Chris Lowther retires from Tyne and Wear Fire and Rescue Service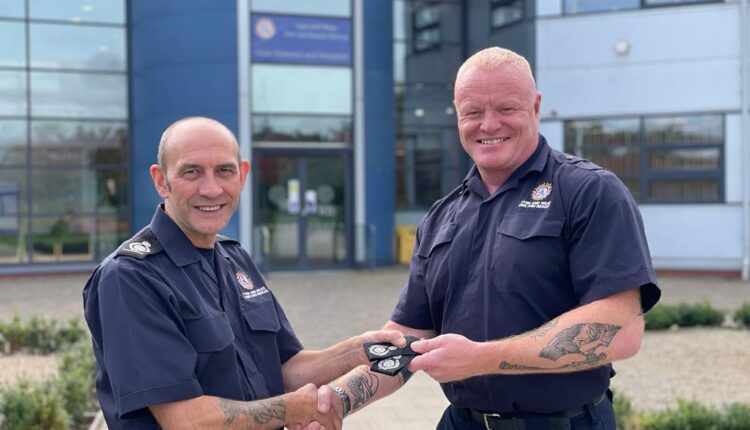 Chris Lowther announced in March that he would be retiring from his position of Chief Fire Officer.
He was born and raised in Gateshead and, after joining TWFRS as a firefighter in 1997, was posted to Gateshead Community Fire Station to serve in his home town.
Chris spent all his career in Tyne and Wear and moved through the ranks before being appointed as Chief Fire Officer in 2017.
He announced in March he would retire later this year and in May Deputy Chief Fire Officer Peter Heath was announced as his replacement.
Chris has been working with the newly appointed Chief Fire Officer to ensure a succession plan is in place.
And now that Chief Fire Officer Heath has formed a new leadership team, Chris has decided it is the right time to leave.
He said: "When I submitted my notice to retire to the Fire Authority in February, I said that my last working day would be no later than 31 October 2023.
"The reason I gave eight months' notice instead of the contractual three months was to ensure succession planning was in place.
"Now that the Fire Authority has appointed Peter Heath as your new Chief Fire Officer, and Stewart Nicholson as your Deputy Chief Fire Officer, and the succession plan is complete, I have decided to retire.
"It has been a great honour and privilege to serve the communities of the North East and to work alongside such dedicated and professional people."
Phil Tye, Chair of Tyne and Wear Fire and Rescue Authority, also paid tribute to Chris on his final day in post.
He said: "I would like to thank Chris for his contribution to the communities of Tyne and Wear over a long career with the last seven years as Chief Fire Officer.
"During that time TWFRS has consistently been one of the fastest responding Fire and Rescue Services to the most serious fires across the country and has pushed ahead with work to reduce firefighter's exposure to contaminants and work to keep firefighters safe.
"Despite some of the most challenging times of financial austerity, he ensured the service continue to deliver for local communities and invested in staff and resources to ensure that the staff and people of the North East had a first class emergency service when needed most.
"On behalf of the Fire Authority I thank him for his commitment and contribution and wish him well for the future.
"I now look forward to working with Peter as he takes up the role of Chief Fire Officer.
"The Fire Authority will support CFO Heath in his role leading continued improvement in our workplace culture, values, behaviours, effectiveness and efficiency and ensure that as a Fire Authority and on behalf of the staff and communities we represent, the service continues to improve and focus on the matters most important to the staff and our communities."
Chief Fire Officer Peter Heath will take on the role with immediate effect and said he will focus on "supporting continuing improvements" in the Service.
He said: "I acknowledge and appreciate the Fire Authority's support and look forward to taking on the role of Chief Fire Officer for Tyne and Wear Fire and Rescue Service (TWFRS) and appreciate the trust in me, significance and responsibilities that this brings.
"I will commit myself to serving the communities of Tyne and Wear to the best of my abilities and working to improve public safety in collaboration with all of the agencies and partners across the region and wider UK.
"As Chief Fire Officer I will place a concerted focus on supporting continuing improvements within our Service on all matters of decency, inclusivity, fairness and respect and will not shy away from leading and driving this to ensure that the workplace is a safe and inclusive place for all staff where inappropriate behaviours are not tolerated."
Chief Fire Officer Peter Heath has already appointed Stewart Nicholson as Deputy Chief Fire Officer and he will join him at TWFRS next month.
Stewart joins the Service from the Scottish Fire and Rescue Service and was announced as DCFO in August.